Melinsung Summer Bay Resort Apartments - the first resort home in Sabah that offers you the resort-lifestyle living…
Melinsung Summer Bay Resort Apartments is the only resort home development in the state that is equipped with resort-style swimming pools. This includes the first ever outdoor pool that is sheltered by elegant canopy to protect you from the sun and rain, and the other one that is completed with slide and waterfall for children and young-at-heart.
Other specialties and facilities in Melinsung Summer Bay Resort Apartments include:

The fascinating Summer Bay Cruise Entertainment Centre, offering you fine-dining restaurant, karaoke lounge, beauty saloon, reflexology centre and the beachfront sunset bar to relax your mind and for you to enjoy the exquisite scenery of Melinsung Beach.
The beautiful landscaping of the 10-acres Datuk Dr. Wong Kwok Park.
A 9-hole Mini Golf Course.
A Jetty for sea sports (boating, sailing) lovers.
A Yacht Club to provide berthing facilities.
A full-range of recreation facilities, including volleyball court, football field and sand castle playground.
And, not forgetting, the nearby Polo Club for horse riding activities.
All these attractive resort facilities are awaiting you at Melinsung Summer Bay Resort Apartments, which is only 18-minute drive from the Kota Kinabalu International Airport.
So, hurry up and place your booking for Melinsung Summer Bay Resort Apartments now!



Melinsung Summer Bay Resort Apartments - Site Map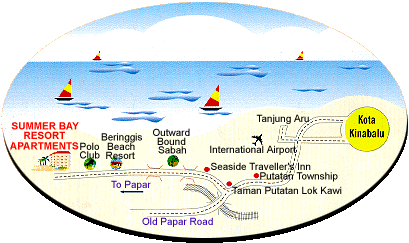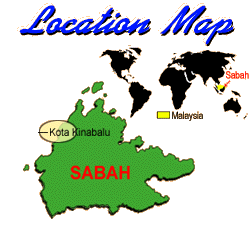 Facilities

2 Swimming pools ( pool with slides & waterfall ) (pool with canopy).

24-hour Security Service.

Intercom System.

Automatic Gate.

Fountains.

Badmintion Courts & Tennis Courts.

Covered Car Parks.

Yacht Club with Sauna and Pool Table.

Jetty for Water Sports.

Sunset Bar, Food Stalls, Restaurant and Barbecue Facilities.




Contact us immediately to place your booking. You will receive a response from us within 24 hours.
---
Eigene Website, kostenlos erstellt mit Web-Gear
Verantwortlich für den Inhalt dieser Seite ist ausschließlich der Autor dieser Homepage. Missbrauch melden